I had to do some work on my blog today and I needed to FTP into my site. I'm using a laptop that didn't have an FTP client on it so I went to download FileZilla. During the process of downloading FileZilla today I discovered that SourceForce has fallen pretty far down the malware hole and that I need to pay more attention to what I'm doing and try not to multi-task so much. I'll describe what I did and where I went wrong.
To start I fired up Chrome, searched for FileZilla into the address bar and got this result page from Google.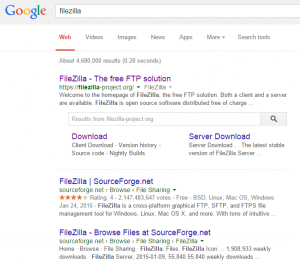 I clicked on the top link which then took me to the FileZilla home page. From there I clicked the "Download" link from FileZilla which brought me to this page. Notice how they want you to use SourceForge. (Why FileZilla? Why? Think of the children!)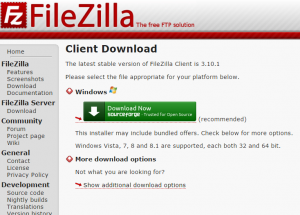 So I clicked on the download and the downloaded FileZilla (or what I thought was FileZilla) to my machine.
What happens next is key. It's where I screwed up.
I should note that I've used SourceForge to download FileZilla lots of times. However, today I'm trying to do 5 things at once. I wasn't paying very close attention so forgive me if you guffaw at what I do next here.
So I open the download and get this screen.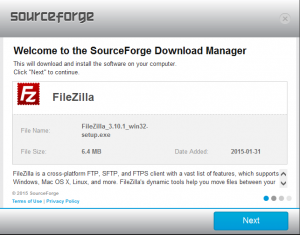 You may think (well probably not) that you are starting the installation for FileZilla, but you are actually running the SourceForge installer. This is how/where SourceForge tricks you into installing crap on your computer. For sure if you look at it you can see what it is, but I contend that if you are either not paying close attention or are just not clued in to what SourceForge is doing here you need to be careful. I think this thing is designed to make you want to blow past these screens and keep clicking next. That's certainly what I did. I only saw the FileZilla logo and just kept clicking Next.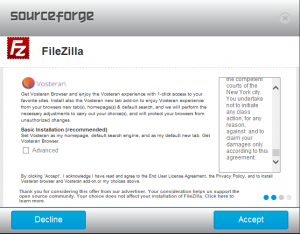 And here is that money shot. The piece of crap that infected my computer. I clicked right through this and actually ended up with this nasty crap-ware on my system called, Vosteran. (deliberately linking to Lavasoft site on how to remove it rather than their site).
So as a result of my having not paid attention earlier, I am now very carefully paying attention as I go through my entire system to make sure I remove every piece of this crap. The removal steps for this thing included uninstalling it from Add/Remove Programs, removing the browser plug-in and then changing my search defaults for each browser on my system. Google for Chrome, Bing for IE.
Not a really productive way to spend my Saturday. Thanks SourceForge. I guess the days of forcing me to watch an ad for 30 seconds wasn't paying enough. Seriously you guys really need to find a better business model.